How to upload your files to a Web Server using FTP
This section describes how to place your files on a Web server via FTP, the necessary programs and settings.
FTP Server Address
Use ftp://ftp.yourdomain.lv as FTP server address. Your FTP username and password you can manage using hosting control panel. (how to add/delete FTP user)
Which program to use for uploading files to server.
To upload files to server you have to use programs that support FTP(File Transfer Protocol). Using FTP client connect to our server, and upload your site files.
Here is the list of programs recommended to use with our FTP Server:
Far Manager
FTP Commander
Total Commander
We recommend to use FileZilla FTP client. However, to work with out server will suit any program that supports FTP protocol.
Configuring FileZilla
You can download FileZilla Client hrere.
After installing program on your computer open it and go to «File» > «Site Manager».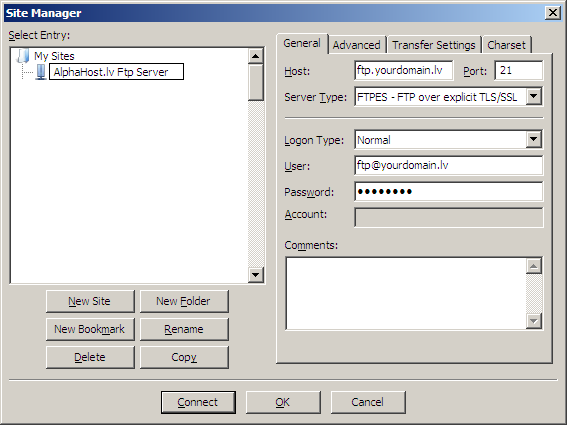 Click on «New Site» and enter new site name, for example «AlphaHost FTP Server». Fields must be filled as follows:
Host: ftp.yourdomain.lv
Port: Leave the default value
Server Type: FTP (or use FTPES to encrypt all data transfered between you and the server)
Logon Type: Normal
User: your FTP username for example

This email address is being protected from spambots. You need JavaScript enabled to view it.

Password: Your FTP user password
Now you can connect to our FTP Server by clicking «Connect» button.
Active and Passive FTP
Tere are two connection types with FTP Server — active and passive.
Passive mode is used to connect through a firewall. When working on the FTP through a firewall you can get error like "425 Can't build data connection: Connection refused » or similar. This means that you need to change the settings of FTP program and force it to use passive FTP mode to connect to our server. When using FileZilla client, you can change connection type to active or passive in «Transfer Settings» tab in the «Site Manager».
Security issues using FTP
Using FTP protocol, all data and passwords are transmitted from client to server in plain text that is not safe, so we recommend using protocols with data encryption FTPES or SFTP. In FileZilla you can change transfer protocol by changing «Server Type» in «Site Manager». We recommend using FTPES protocol. Using SFTP(SSH File Transfer Protocol) use SSH username and password(not ftp user), That's why SFTP is available only to customers with «Gamma» package